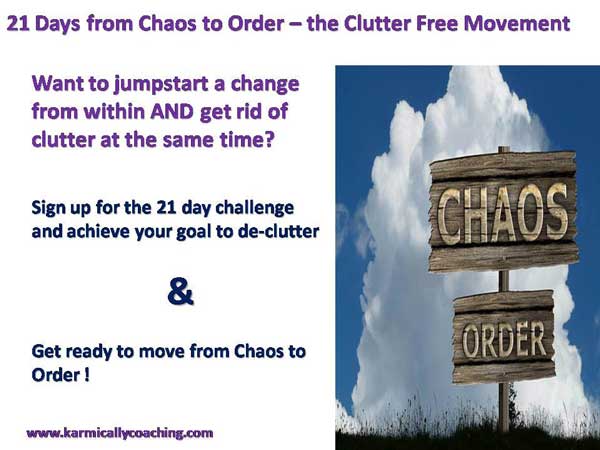 I'm celebrating the Launch of The Karmic Ally Coaching Training website, where all Group coaching and self-study courses related to The Karmic Ally Coaching Experience are housed, and you are invited to join me at the party with a slight difference.
Instead of the usual hint at BYOB (Bring Your Own Bottle) I'm doing a BYOC (Bring Your Own Clutter)!
The pilot challenge in December 2014 helped a lot of the participants not only get their clutter out of the way but they also found items that they could sell and one participant actually found the funds to settle her credit card bill for the month!!!
Now that is a plus point but more importantly, participants found clarity, a starting point to get their space organized and support from fellow group members (including me).
Maybe the challenge should have been renamed from Clutter to Cash! In any case, it upheld the true spirit of The Karmic Ally Coaching Experience Co-creative Model and the participants contributed their insights to further refine the challenge.
If you have been feeling that you need to get your space organized, get rid of clutter, want accountability and get the desired support to create new habits in 2015, then this offer is a must consider for you at an investment of  USD 25.00 (INR 1,600/-) USD 49.00 (INR 3,000/-) for a Group Program that will ultimately costs at least 2 times more after March 23rd, 2015.
What we will do during the course of the challenge?
The Outer Work – Commence the activity of getting your clutter under control
Once you sign up, essentially over a 30 day period, (you get to chose your 21 days)  you will select 21 tasks from a checklist of 31 items to de-clutter with the support of a private Facebook Group especially set up for this challenge.
How many you do in a day or how much time you spend on a task is entirely up to you. There are 31 tasks to choose from and you can continue even after the Challenge ends and use the task list for future Spring Cleaning purposes.
To help you get the most out of the Challenge:
The Task List is sprinkled with tips that can help speed up your de-clutter activity
You will get checklists and self-coaching worksheets to help you take effective decisions regarding clutter items and how to refrain from adding new clutter in place of that which you are getting rid off.
You will receive a manual which will contain details of how to set yourself up for the challenge, the task list and how to dispose the items that were creating clutter on enrollment.
The manual and other handouts, checklists and templates will also be available for download in the private Facebook Group where the real group coaching will take place. The best part is that even after you complete  your challenge, you can stay with the Group in case you need further support.
The Inner Work – Understanding the psychology behind your clutter and hoarding tendencies
This part of the challenge is where we will work on your inner game to gain insights into your cluttering and hoarding tendencies and work on how you can resist the urge to return to clutter  and hoarding once the challenge is over.
Through short tutorials delivered via audio and video recordings, self-assessments and Group support you will be empowered to understand your inclinations towards cluttering and work out steps that you can take to overcome the clutter habit.
In addition, extra resources and guidance will be shared in the Facebook Group.
By the end of the program, provided you actively participate as a Group Member, you will have
Completed 21 de-cluttering tasks with enough tasks left to continue the de-cluttering work even after the challenge period is over.
Gained an insight into your stress manifestation symptoms and begun to learn to control your clutter and hoarding habits
Made new friends and found a support group back at Facebook
So are you game for the challenge? 
If yes, then join me now! The Facebook Group is already open and all it needs is your presence and active participation!
This challenge is currently closed.
Get Your manual, checklists, assessment sheet and group coaching support here for only $49.00 USD/INR 3,000.00
After you place your order & confirm payment you will be redirected to a "thank you" page where I will request you to enter your details and follow the procedure to be taken to the Facebook Group and also receive your Challenge material.
India based participants need tocontact me separately at vatsala(at) karmicallycoaching(dot)com
If for some reason you're not redirected, please send me an email at vatsala (at) karmicallycoaching (dot) com with details of your purchase and I'll get a link to you asap.
Actual Testimonials from former participants
The 21 Days from Chaos to Order Challenge inspired me to get organized and remove clutter that I had been holding on to for at least 3 years! I even got my boyfriend on board and we, are now much happier with the way our bedroom looks and feels. Keep going, Vatsala!! You're awesome and providing a fabulous service to people! You motivated me to get my act together. I am very grateful.
Jennifer Kennedy, Teach Good Stuff www.teachgoodstuff.com
I enjoyed Vatsala's course on controlling clutter.  I'm one of those people who are crazy organized when it comes to work, but somehow when it comes to home, I turn into this equally crazy hoarder!  I appreciated Vatsala's support in dealing with not just the practicalities of decluttering, but also on the mindset aspect of why we create chaos in the first place.
It took me a little longer than the 21 days, but I'm proud to say that I did get quite a few uncontrolled areas under control, despite the fact that the festive season – during which I undertook the challenge – is prime fodder for creating even more clutter.
Thank you Vatsala!
Naima, Moonpreneur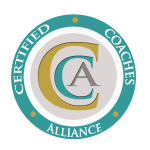 I adhere to the Certified Coaches Alliance Code of Ethics and Standards. A copy is available on request.