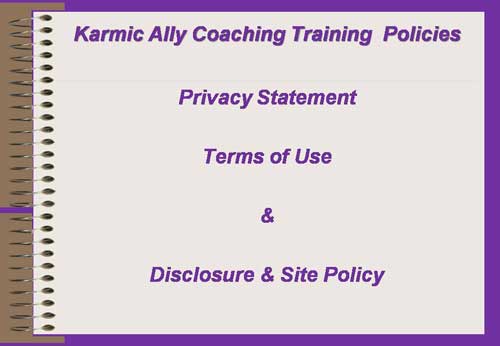 VATSALASHUKLA.COM, known as Karmic Ally Coaching Training, has created this privacy statement in order to demonstrate our firm commitment to privacy.
The following discloses our information gathering and dissemination practices for this website: VATSALASHUKLA.COM.
We value your privacy
The foundation of a mutually beneficial coaching and training relationship is based on trust and maintaining your privacy is importance to us. To build on this trust, we are providing our policies on how we use and protect your personal information.  Please contact us, if you have any other questions or issues that have not been addressed here.
The Website's Purpose
The intention of the Karmic Ally Coaching Training website is to provide a separate platform for the online training part of The Karmic Ally Coaching Experience's practice and services. Some of the training and resources are free while others are delivered on payment. The information on the website is meant to be used as a general guide.
Since 14th August 2016, our training programs have been transferred to our online school on the Teachable platform. These courses can be viewed at https://karmically.teachable.com. The courses are delivered through a secure platform and payments are transacted through Teachable.
Our remaining pages other than the home page and contact page link back to the main website www.karmicallycoaching.com and you will find our Privacy and Terms of Use Policy at that website as well.
The website is regularly reviewed, updated and every effort is made to ensure that the information on this website is accurate and up to date as far as possible.
Third Party Support
We take personal information security seriously and work only with reputable and recommended third party technical providers who practice the best practice protocol, comply with anti-spam laws and adhere to the same high standards of Karmic Ally Coaching.
Information Collection
VATSALASHUKLA.COM  is committed to protecting the privacy of its online visitors. We only get your name and email address when you knowingly and willingly provide it to us by filling up the form on the website. We will never sell, rent or distribute your email address.
In addition to our weekly email, we may, on occasion send out emails with the latest offers and products as a preferential treatment for subscribing to our ebook or free course. You retain the right to unsubscribe from the email service whenever you want to.
When someone visits VATSALASHUKLA.COM we use a third party service, Google Analytics, to collect standard internet log information and details of visitor behavior patterns. We do this to find out things such as the number of visitors to the various parts of the site. This information is only processed in a way which does not identify anyone. We do not make, and do not allow Google to make, any attempt to find out the identities of those visiting our website.
Like many other websites, VATSALASHUKLA.COM makes use of log files. The information inside the log files includes internet protocol (IP) addresses, type of browser, Internet Service Provider (ISP), date/time stamp, referring/exit pages, and number referring/exit pages, and number of clicks to analyze trends, administer the site, track user's movement around the site, and gather demographic information. IP addresses, and other such information are not linked to any information that is personally identifiable.
We use your IP address to help diagnose problems with our server, and to administer our Web site.
We do not permit spam messages through our website and block them using Akismet processed by Automattic. For more information please read Automattic's Privacy Notice.
This site contains links to other sites. VATSALASHUKLA.COM is not responsible for the privacy practices or the content of such Web sites.
As part of the registration process for our subscription gift and weekly e-newsletter, we collect personal information. We use that information for a couple of reasons: to tell you about information  you've asked us to tell you about; to contact you if we need to obtain or provide additional information; to check our records are right and to check every now and then that you're happy and satisfied.
We don't rent or trade email lists with other organisations and businesses.
We use a third-party provider, Mailerlite, to deliver our subscription gift and newsletter. We gather statistics around email opening and clicks using industry standard technologies to help us monitor and improve our e-newsletter. For more information, please see Mailerlite's privacy notice.
Mailerlite and VATSALASHUKLA.COM agree not to sell or rent the email addresses of any VATSALASHUKLA.COM subscribers to any third party.
You are entitled to view, amend, or delete the personal information that we hold. Email your request to vatsala(at)karmicallycoaching(dot)com.
In addition, online visitors who wish to purchase a product or membership through this website must provide the information required by our payment gateway, PayPal. All credit card transactions occur over a secure connection.
Public Forums
This site may make chat rooms, forums, message boards, comments and/or news groups available to its users. Please remember that any information that is disclosed in these areas becomes public information and you should exercise caution when deciding to disclose your personal information.
Choice/OptOut
You can unsubscribe to general mailings at any time of the day or night by clicking the unsubscribe link at the bottom of any of our emails
This site gives users the following options for removing their information from our mailing list database to not receive future communications or to no longer receive our service. You can contact VATSALASHUKLA.COM by clicking HERE  or by simply unsubscribing from our emails via Mailerlite.
Contacting the Web Site
Communications sent via our Contact Form if found to be spam or not business related are immediately deleted.
If you have any questions about this privacy statement, the practices of this site, or your dealings with this Web site, feel free to contact us by clicking HERE
Changes to our policies
Please note that we may change this Privacy Policy at various times. We expect most such changes will be minor, but we cannot guarantee that will be the case. Regardless, we will post any Policy changes on this page and, if the changes are significant, we will provide a more prominent notice (including, if we deem it appropriate, email notification of Policy changes).
The content on this website is protected by Copyrights.
Comment Policy
I delete spam – I have spam filters in place which automatically catch the majority of automated spam content.  I also manually check for spam and in the event that a spam comment has slipped through, it will be immediately deleted.
Comment Form Guidelines – The comment form must be filled in with a proper or legitimate sounding name and URL. Comments using keywords, spam or splog-like URLs, or suspicious information in the comment form will be edited or deleted.
Email Privacy – Email addresses are required for commenting, and they are not published on the website, nor shared. They may be used by the website owner to privately contact the commenter.
Commenter Privacy and Protection – All email, snail mail, phone numbers, and any private and personal information posted in any comment will be deleted as soon as possible to protect the privacy of the commenter.
To prevent such editing, never share this private information within the website comment.
Language and Manners – This website is "family friendly" and comments which include offensive or inappropriate language, or considered by the website owner and administrator to be rude and offensive, will be edited or deleted. Play nice.
A Comment is Conversation – A comment which does not add to the conversation runs of on an inappropriate tangent, or kills the conversation may be edited, moved, or deleted.
Relevant links in comments are actively encouraged – if you're leaving a comment on my website and want to point to a link on your own or someone else's site that is relevant to the topic then please feel free to do so. This adds to the conversation and improves the website. However, ALL links will be checked during moderation. So be careful!
All Rights Reserved – The website owner, administrator, contributor, editor, and/or author reserve the right to edit, delete, move, or mark as spam any and all comments. They also have the right to block access to any one or group from commenting or from the entire website.
Hold Harmless – All comments within this website are the responsibility of the commenter, not the website owner, administrator, contributor, editor, or author. By submitting a comment on our website, you agree that the comment content is your own, and to hold this site, Karmic Ally Coaching Training , and all subsidiaries and representatives harmless from any and all repercussions, damages, or liability.
Trackbacks Are Comments – All trackbacks will be treated in line with our Comments Policy.
Terms of Use
Welcome to VATSALASHUKLA.COM.  If you continue to browse and use this website you are agreeing to comply with and be bound by the following terms and conditions of use, which together with our privacy policy govern Vatsala Shukla, Life Coach's relationship with you in relation to this website.  Please refer to our Privacy Statement above for the full policy.
Your use of any information or materials on this website is entirely at your own risk, for which we shall not be liable. It shall be your own responsibility to ensure that any products, services or information available through this website meet your specific requirements.
This website contains material which is owned by or licensed to us. This material includes, but is not limited to, the design, layout, look, appearance and graphics. Reproduction is prohibited other than in accordance with the copyright notice, which forms part of these terms and conditions. In the cases where we notice copyright infringement, we do file DMCA complaints and follow them through.
Unauthorized use of this website may give rise to a claim for damages and/or be a criminal offense.
From time to time this website may also include links to other websites. These links are provided for your convenience to provide further information. They do not signify that we endorse the website(s). We have no responsibility for the content of the linked website(s).
You may not create a link to this website from another website or document without Karmic Ally Coaching Training or Vatsala Shukla's prior written consent. Your use of this website and any dispute arising out of such use of the website is subject to the laws of India.
Disclosure Policy
This policy is valid from 20 April 2018
The content and training available at this website is written and edited by me, Vatsala Shukla. For questions about this website, please send an email to Vatsala (At) karmicallycoaching(Dot) com.
This site reserves the right to accept forms of advertising, sponsorship, or other forms of compensation. I do not sell text links.
Vatsala Shukla is a participant in the Amazon Services LLC Associates Program, an affiliate advertising program designed to provide a means for sites to earn advertising fees by advertising and linking to amazon.com and amazon.in.
This site contains recommendations for books, audio and other products and in many cases the link provided is an affiliate link. This means I may receive a small commission when you take action on recommendations.  Please note that I only recommend products and services I use personally and believe will add value to my readers.
This site abides by word of mouth marketing standards. I believe in honesty of relationship, opinion and identity. The compensation I receive on products, services, websites and various other topics does NOT affect the topics or posts I make in this site.
We write for our own purposes. However, we may be influenced by our background, occupation, religion, political affiliation or experience.
The owner(s) of this website is not compensated to provide opinion on products, services, websites and various other topics. The views and opinions expressed on this website are purely those of website owners. If we claim or appear to be experts on a certain topic or product or service area, we will only endorse products or services that we believe, based on our expertise, are worthy of such endorsement. Any product claim, statistic, quote or other representation about a product or service should be verified with the manufacturer or provider.
This website does not contain any content which might present a conflict of interest.
All content on VATSALASHUKLA.COM is copyrighted and may not be reprinted or distributed without prior written consent.
Site Disclaimer
VATSALASHUKLA.COM does not represent or endorse the accuracy or reliability of any of the information, content or advertisements contained on, distributed through, or linked, downloaded or accessed from any of the services contained on this website, nor the quality of any products, information or other materials displayed, purchased, or obtained by you as a result of reading and using this site.
VATSALASHUKLA.COM does not represent or endorse the accuracy or reliability of any of the information, content or advertisements contained on, distributed through, or linked, downloaded or accessed from any of the services contained on this website, nor the quality of any products, information or other materials displayed, purchased, or obtained by you as a result of an advertisement or any other information or offer in or in connection with the services herein.
You hereby acknowledge that any reliance upon any Materials shall be at your sole risk. VATSALASHUKLA.COM reserves the right, in its sole discretion and without any obligation, to make improvements to, or correct any error or omissions in any portion of the Service or the Materials.
THE SERVICE AND THE MATERIALS ARE PROVIDED BY VATSALASHUKLA.COM ON AN "AS IS" BASIS, AND VATSALASHUKLA.COM EXPRESSLY DISCLAIMS ANY AND ALL WARRANTIES, EXPRESS OR IMPLIED, INCLUDING WITHOUT LIMITATION WARRANTIES OF MERCHANTABILITY AND FITNESS FOR A PARTICULAR PURPOSE, WITH RESPECT TO THE SERVICE OR ANY MATERIALS AND PRODUCTS. IN NO EVENT SHALL  VATSALASHUKLA.COM BE LIABLE FOR ANY DIRECT, INDIRECT, INCIDENTAL, PUNITIVE, OR CONSEQUENTIAL DAMAGES OF ANY KIND WHATSOEVER WITH RESPECT TO THE SERVICE, THE MATERIALS AND THE PRODUCTS.
Disclaimer – For Guides, eBooks & Information Products
EVERY EFFORT HAS BEEN MADE TO ACCURATELY REPRESENT THIS PRODUCT AND ITS POTENTIAL. THERE IS NO GUARANTEE THAT YOU WILL HAVE RESULTS USING THE TECHNIQUES AND IDEAS IN THESE MATERIALS. EXAMPLES IN THESE MATERIALS ARE NOT TO BE INTERPRETED AS A PROMISE OR GUARANTEE.
YOUR LEVEL OF SUCCESS IN ATTAINING THE RESULTS CLAIMED IN OUR MATERIALS DEPENDS ON THE TIME YOU DEVOTE TO THE IDEAS AND TECHNIQUES MENTIONED, YOUR FINANCES, KNOWLEDGE AND VARIOUS SKILLS. SINCE THESE FACTORS DIFFER ACCORDING TO INDIVIDUALS, WE CANNOT GUARANTEE YOUR SUCCESS. NOR ARE WE RESPONSIBLE FOR ANY OF YOUR ACTIONS. MANY FACTORS WILL BE IMPORTANT IN DETERMINING YOUR ACTUAL RESULTS AND NO GUARANTEES ARE MADE THAT YOU WILL ACHIEVE RESULTS SIMILAR TO OURS OR ANYBODY ELSE'S, IN FACT NO GUARANTEES ARE MADE THAT YOU WILL ACHIEVE ANY RESULTS FROM OUR IDEAS AND TECHNIQUES IN OUR MATERIAL.
VATSALASHUKLA.COM respects the rights (including the intellectual property rights) of others, and we ask our users to do the same.
VATSALASHUKLA.COM may, in appropriate circumstances and in its sole discretion, terminate the accounts of users who infringe or otherwise violate such rights of others.